REVIEW: TOYO TIRES OPEN COUNTRY ATII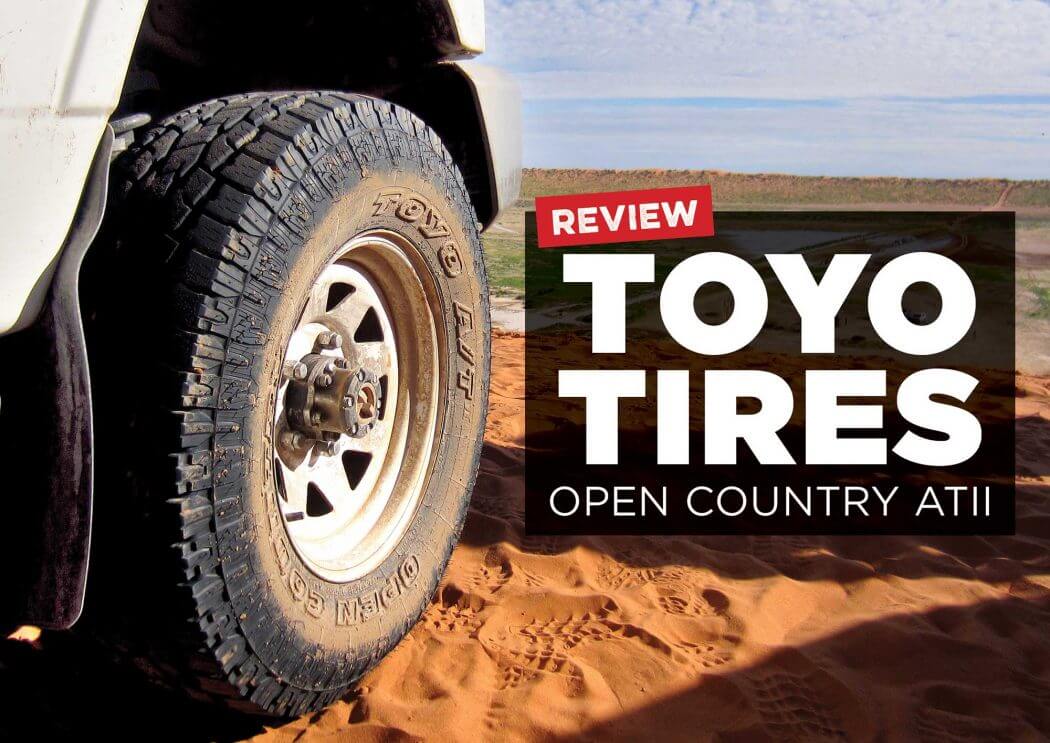 We put the latest All-Terrains from Toyo through 5,000km of Outback hell – did they survive?
When it comes to long-distance touring it's hard to go by a good set of All-Terrains. Sure, they're not as sexy as a set of muddies and they tend not to grip so well in the slop, but for endless miles of bitumen, dirt road corrugations, sand, and gibber plains… they're the tyre-style of choice for countless four-wheel drive tourers.
So just before I left for the Big Red Bash, Toyo got in touch and mentioned they had a set of their latest Open Country ATIIs that they wanted us to test… sometimes the stars just line up eh? Nothing like some fresh rubber before a big trip to give you a little peace of mind.
On-road these things were impressive, with better than decent handling in the rain-soaked twisties (coming down Mount Victoria, for those in NSW); and once on the freeway heading north on 1,000-odd kays of blacktop there was next-to-no road noise. In fact, I actually forgot I was running different tyres – which is probably a positive thing when you think about it.
Two from two so far.
Then we hit the dirt. Now, I was towing and the Troopy was well and truly loaded up so I was keeping a fairly close eye on pressures (dropped from 38psi road pressures to 30psi, then using the 4psi rule dropped them to 28psi – which seemed about right) – and once the right pressure had been found for our speed and the loads we were carrying, the tyres seemed to come into their own. Washouts, corrugations and gibber stones – you name it we came into contact with it and the ATIIs soaked it up impressively.
Chalk up another point for the Toyos.
It was time to get serious. Dirt roads and sidewall-slicing gibber stones are one thing… but coming into our campsite just out of Quilpie in 2WD, our apparently hard-packed clay track had obviously copped some water because within the space of a few metres we'd sunk to our axles in some of the softest, suckiest, smelliest mud imaginable. The things you find in the Outback, hey?
Off with the thongs and out into the calf-deep quagmire to lock the hubs, shift into low-range and engage the lockers… No dice, all four tyres were just spinning. Now I don't mean this in a negative way at all. In fact, to the ATIIs' credit they were self-clearing extremely well; it's just that the terrain offered absolutely no traction. Time to reassess.
Time to re-dirty the feet and let a little more pressure out of the tyres before jumping in again and trying to back out of the mudhole. Not exactly an easy task with a trailer in tow, but forward progress simply wasn't happening so it was worth a crack.
Sure enough, with a little less pressure and moving backwards, the Toyos drove straight out. Having been bogged on everything from HTs to muddies, I have to say I was pretty impressed with the non-aggressive ATs.
We made it to the Big Red Bash without further incident and spent a few days enjoying the sights, sounds and beaut Outback hospitality – then it was time for the real test. Would the Toyo rubber stand up to a heavy vehicle towing a trailer at 16psi for days on end through the talcum-powder-soft sand of the Simmo? It was time to find out.
I'll tell you this straight up: Yes we got bogged; yes the ride was rough, yes there were times I was a bit worried that the rocks were going to rip the sidewalls apart (particularly after the track firmed up after Purni Bore); but once we'd rolled into Mount Dare without suffering any punctures, blowouts or failures of any kind that could be put down to the tyres, I was seriously re-thinking my lifelong addiction to mud-terrains and considering throwing down for some ATs the next time I'm in the market for tyres.
They bagged well at 16psi and soaked up countless washouts, corrugations and, of course, dunes without a worry. And as for wear rates: 5,000km of hard driving later there was no sign of chipping or chunking; just a small amount of feathering on the shoulders of the tread blocks. After speaking to Toyo about this, I'm assured it's pretty normal. It's apparently due to a bit of compromise in the design of the tyre between on-road handling and off-road grip. It leads to each tread block having a bit of flex, and the feathering is the result. Still, it's not a bad thing. With regular tyre rotations (Toyo recommends rotation with every service) these things should easily last well north of 60,000km by my calculations. Given the terrain they've conquered and the extended running at low pressures, I reckon that if you're like me and have realised that muddies aren't always the best option, the Open Country ATIIs could be right up your alley.