Got a flat battery, or need a new battery in Hoppers Crossing, Werribee, Point Cook, Tarneit, Truganina, Wyndham Vale, Williams Landing, Seabrook, Laverton and Altona? The professionals at Tyrepower Werribee are here to help. We provide a range of quality batteries at reasonable prices, and can discuss with you your best options.
Century Batteries
Tyrepower Werribee based in Hoppers Crossing is an approved supplier of Century Battery, we stock a battery for every need and have been supplying Century Batteries to all walks of customers across Melbourne for over 15 years. We carry a vast amount of Batteries for Car, SUV, 4x4, Light Truck and High Performance Vehicles. We can also provide Marine & Deep Cycle Century Batteries for your off-road and camping requirements to boating and fishing vessels as well. As part of all our vehicle battery installations we use a UPS (Un-interrupted Power Supply) tool to help your radio tuning and vehicle programing remain unaffected while the battery is removed from the vehicle.
After the new battery is installed we also provide a full test and report of you Battery, Alternator and Starter Motor to eliminate any underlying issues, this additional service is provided free with every new Century Battery purchase & installation.
Australian Conditions Create Havoc for Batteries
Australia's harsh climate and rough uneven roads create havoc for batteries, attacking critical internal components which can lead to premature battery failure.

Many imported batteries, made for softer overseas climates, focus on delivering higher starting capacity at the expense of more critical design features required in Australia. Century batteries have been designed and manufactured in Australia since 1928. They incorporate an array of design features and technological enhancements to better suit our conditions and deliver what Australian motorists really want - longer life and superior performance.

It is important to invest in a battery that can withstand the abuse of Australian conditions. In choosing a Century battery you are supporting local manufacturing and have the peace of mind that comes with an Australian made, Australian designed battery.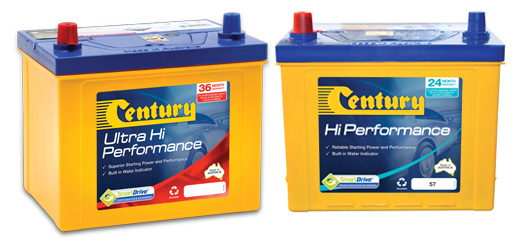 If your car battery is more than 3 years old, have it assessed at Tyrepower Werribee. Give us a call on (03) 8368 2366 or drop by at 1/294 Old Geelong Road, Hoppers Crossing.