From Track, To Road, And Back To Track Again
Switching between your weekday 'Road Angel', and your weekend 'Track Demon' has always meant a switch in tyres - spending extra money buying separate sets of tyres, and wasting effort carrying and changing them before hitting the track. Kumho Tyre have designed a product to save you from having to do just that. Their ECSTA V720 is street-legal, and guarantees the ultimate handling and durability needed in the high-speed conditions of a performance circuit, while promising the safest drive off the circuit at regular speeds.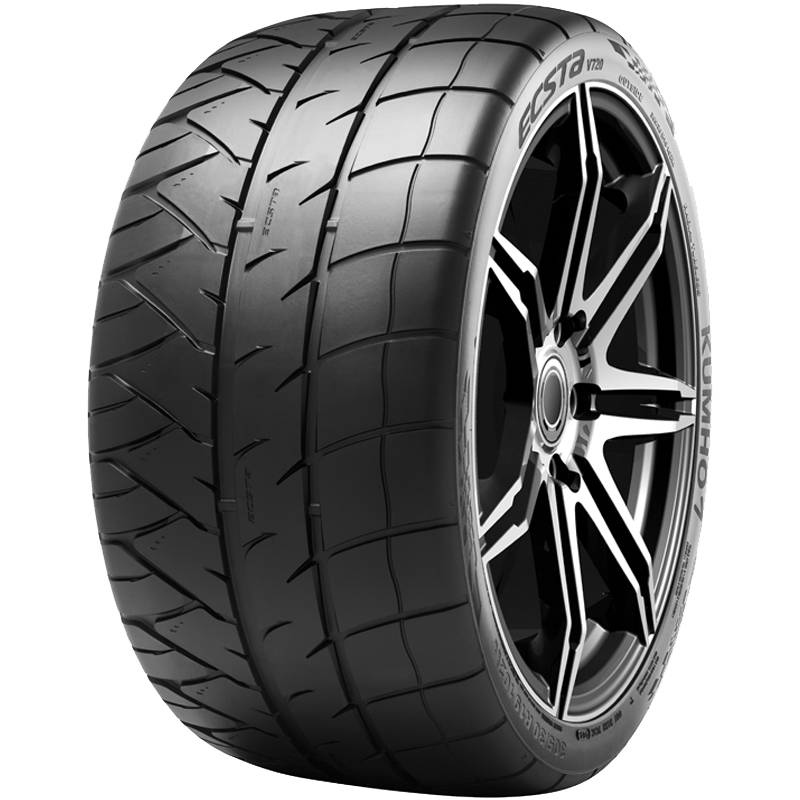 The ECSTA V720 is designed for the rigours of the track -, demonstrating its best grip performance during cornering. The mix high-grip synthetic resin maximises the compound, increasing grip as the temperature of the tyre rises. The multi-mixing step technology improves the dispersion of the carbon black.
The V720 offers the best value among circuit tyres, and ultimate safety performance in wet road conditions. The exclusive dynamic sidewall design and performance-oriented pattern, and Super Hard Apex is the racing car technology in the product, and allows for excellent running stability. The use of a high-strength carcass further increases the tyre's durability and handling performance, on and off the track.
Thoughtfully designed for circuit and road driving with an adaptive cooling system, reduced skid sound noise, and safety packed with its In-Out Tread Design; In-side secures wet performance and braking performance on wet roads; and Out-Side Design has a wide-shoulder block design that gives stable handling performance.
Kumho Tyre believe that a tyre's ultra high performance capability makes for a safer, more reliable drive while on the roads. From passenger and heavy commercial vehicles, to off-road and performance, Kumho Tyre continue to deliver the best-in-class tyre for every category. Their new ECSTA V720 tyre is no exception.
The ECSTA V720 tyre is available from all Kumho Tyre stockists nationwide. For more information, or to find your nearest stockist, visit www.kumho.com.au.